ARTIFICIAL INTELLIGENCE AND THE ENERGY SECTOR
Artificial intelligence is everywhere today, but can it be patented in all technological sectors ? 
Ways of protecting an artificial intelligence tool relating to the medical and transport sectors were analysed in two previous IP Alert.
Let us now ask this question for the energy sector which is the fourth sector accounting for the most European filings in 2021 (see here the European Patent Office statistics of April 2022).


Are artificial intelligence technologies to be found in some energy-related inventions?


The answer is yes. To this end, we have identified four granted patents in this field whose claim 1 relates to the use of an artificial intelligence tool applied to input data to obtain an estimate of desired output data, as illustrated by the following table: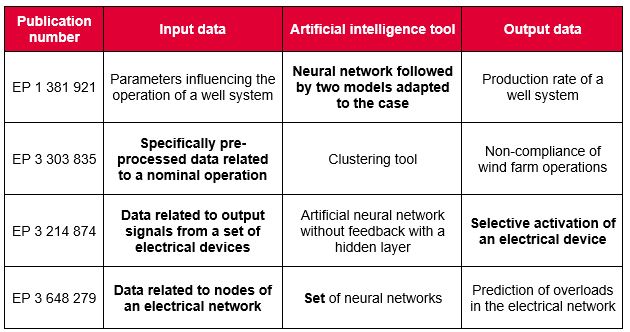 In the table, the elements in bold are the elements justifying the grant by the EPO.


The above examples highlight that the energy sector uses the developments of artificial intelligence, especially with the implementation of the ecological transition.


However, the patentability of these examples is not essentially linked to such an application. Patentability is indeed conferred by original input/output data and/or the use of a specific artificial intelligence tool. This is valid for any type of energy.


Therefore, as seen before for the medical or transport sector, protecting an artificial intelligence tool in the energy sector is entirely possible. For this purpose, it is sufficient to identify an original element among the input/output data and/or the artificial intelligence tool (type of tool and/or way of obtaining the tool).


Our LAVOIX experts are at your disposal to help you with such an identification.
Datum der Veröffentlichung: Mai 2022
Tag : Brevet
Protection

IP ALERT : IP ALERT LAVOIX

Thema(en) : Patente

Zurück zur Liste