TRIBUNAL FOR EUROPEAN UNION – CASE T-145/14 OF MAY 21, 2015, CONFIRMED BY THE COURT OF JUSTICE OF THE EUROPEAN–CASE C-396/15 OF FEBRUARY 17, 2016
Shoes Branding Europe v. ADIDAS AG
The company Adidas is well known for its three parallel stripes ornamenting its products, and very often copied by competitors.
In the present case, the company Shoes Branding Europe filed an EU position trademark (1) and the company Adidas filed an opposition petition against its registration, especially on the basis of its prior trademark (2):

1.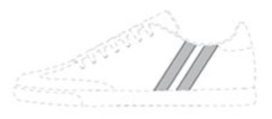 2 . 

The opposition division of the EUIPO rejected this opposition arguing that, on the first hand, the differences in the number of stripes and their respective position on the shoe were sufficient to find that the signs at issue were overall different, and on the other hand, that their differences were determinant, whatever the reputation of the earlier marks may have been.
Hence, Adidas filed an appeal before the Tribunal of the European Union which canceled the decision, which was later confirmed by the CJUE. It has been considered that:
The marks are visually similar and produce a similar overall impression considering the "elements clearly common to the marks at issue" such as the parallel sloping stripes, equidistant, of the same width, contrasting with the base color of the shoes, placed on the outside of the shoe (paragraph 43);
"the difference between two and three stripes placed on a shoe is not sufficient to affect the similarities arising from the configuration of the signs at issue [parallel, equidistant and same width stripes], and their position on the outside of the shoe" (paragraph 41);
"the differences in length of the stripes arising from their difference in inclination" is a minor difference which will not influence the overall impression those marks produce and resulting from "the presence of wide sloping stripes on the outside of the shoe" (paragraph 44).
We would like to particularly underline the importance gave to the overall impression produced by the signs, and how the variations between the common elements have been considered as minor differences.
Contacts : Marion LAPERRIERE et Béatrice DAUBIN
Back to list