ON THE ASSESSMENT OF DISTINCTIVE CHARACTER OF A 3D MARK
American society LOOPS L.L.C. tried, unsuccessfully, to obtain registration of the three-dimensional mark below, for toothbrushes in class 21.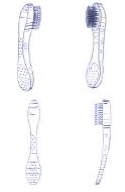 This application was refused on the ground that the mark was immediately recognized as a toothbrush insofar as it is 'composed of a 'head', on which stood the brush, connected to a 'neck' that ended with a 'handle' that the user would take to handle the toothbrush 'and it does not depart significantly from the shape that consumers expect for a toothbrush (TEU 14 June 2016 T385 / 15, Loops LLC / EUIPO).
Contacts : Marion LAPERRIERE and Béatrice DAUBIN
Back to list