Creation of a Chamber of invalidity and cancellation for lack of use of trademarks before the NIIP: state of the talks
At this time, anyone who wishes to obtain the invalidity or the cancellation for lack of use of a French registered trademark, either by way of claim or counterclaim, must bring the action before one of the French District Courts (Tribunaux de Grande Instance) having jurisdiction over trademark matters.
On December 16th, 2015, the European Parliament and the Council of the European Union adopted Regulation No. 2015/2424 and European Directive No. 2015/2437, with the aim of harmonizing European legislations on trademark law.
While the Regulation, which is directly applicable, entered into force on March 23rd, 2016, the Directive gives Member States three years to transpose its content into their national law.
Article 45 of the Directive provides for the compulsory creation in each Member State of an administrative procedure for the invalidity and cancellation for lack of use of trademarks. This procedure, which already exists in Great Britain or Germany for example, will be introduced within the NIIP.
The objectives of the reform are various:
Simplification of the procedure: administrative procedure before the NIIP;
Quickness of the procedure: fixed time limited to 12 months  Necessary vigilance regarding the follow-up of cases brought before the NIIP;
Decluttering the National Trademarks Register of unused titles;
Costs reduction compared to judiciary actions.
A point of attention lies in the rules of jurisdiction. The jurisdiction of the NIIP and the French District Courts will coexist, and will be shared as follows: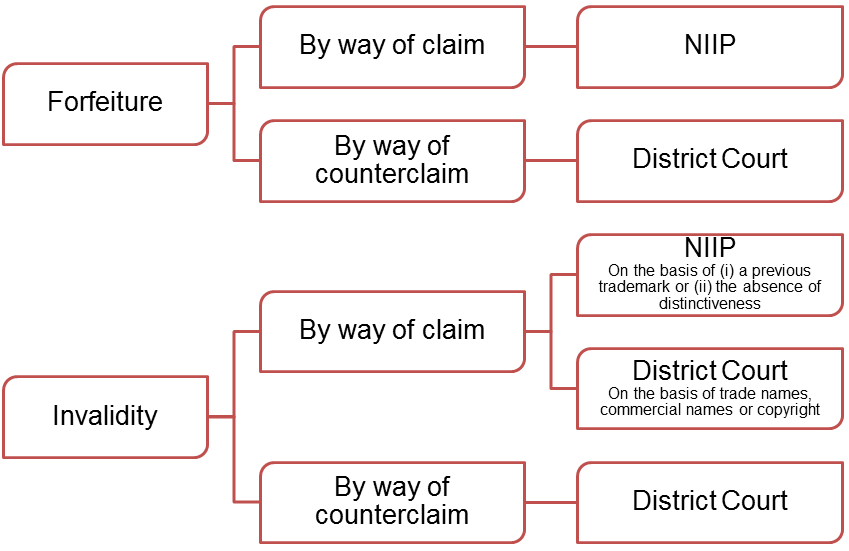 This new procedure will facilitate clearance solutions, which will be simpler and less costly in the context of new trademark projects.
However, weakly distinctive or sporadically exploited marks will be more vulnerable to cancellation actions for lack of use. Moreover, the applicant will not be required to display an interest in taking action, which will further facilitate the implementation of these actions.
The NIIP has not yet announced the date on which this Chamber will be established. However, the three year period granted by the Directive will expire on January 26th, 2019. This new procedure should therefore soon be part of the French legal landscape.
Contacts : Valérie GENIN-SAMSON, Gwénaël TOUSSAINT, Martin SIMONNET
Publication date: February 2018
IP ALERT : IP ALERT Trademarks, Designs and Models

Subject(s) : Trademarks

Back to list