TRADEMARKS and the "PACTE" LAW
FOCUS ON NEW NULLITY AND CANCELLATION ACTIONS
 As previously announced, since April 1st, 2020, the PACTE law implemented two administrative proceedings regarding French trademarks: a cancellation action and a nullity action.

New administrative cancellation action
A cancellation action against a French trademark has to be filed before the French trademark Office (INPI) or before the Court, according to the following rules of competence :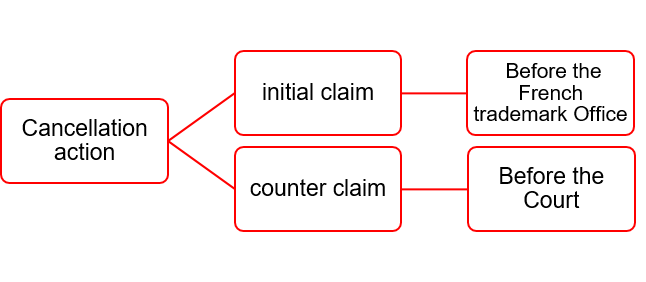 Who can file the action before the French trademark Office ?
Any individual or legal person (no interest in acting to demonstrate).
The cancellation action could be filed on the following grounds:
Lack of use
Loss of distinctiveness;
Deceptiveness;
1/ Cancellation for lack of use
Trademark owners run the risk of the cancellation of their trademarks when, without just cause, they have not seriously used their trademarks for the products and services covered by the registration, for an uninterrupted period of 5 years.


LAVOIX recommendations:
File your trademark with a representation corresponding to the use that will be made of it and claim the products / services of interest only. LAVOIX assists you in the filing strategy.
Use your trademarks as soon as possible after registration, not interrupt this use and use the sign as a trademark (and not as a corporate name, trade name, shop sign, etc.).
Keep proofs of use of the trademarks (invoices, brochures, packaging, catalogs, etc.) mentioning the trademark, the products, a date, the territory. LAVOIX can assist you in the collection of such ready to use relevant proofs.
Consult LAVOIX for any modification of the trademark to determine if a new trademark application is to be filed.
2/ Cancellation for loss of distinctiveness
The trademarks' owners can lose their rights when, of their fact or because of their passivity, their trademarks have become exclusively the usual designation, in everyday language or in business life, of the product or of service.

LAVOIX recommendations:
Communicate on your trademark rights: use of the ® or TM (depending on whether the trademark is registered or only filed) and conduct advertising campaigns;
Monitor the uses made by third parties: in addition to monitoring among registered trademarks, we recommend monitoring all uses to detect possible generic uses.
LAVOIX can for this purpose set up web monitoring (marketplace, websites, social networks)
Act against any use of the trademark in a generic sense: We recommend defining an active defense policy.
3/ Cancellation for deceptiveness
Trademark owners can lose their rights when, for their own reasons, the trademarks mislead the consumer, in particular regarding the nature, quality or geographic origin of the product or service.

The mark was not misleading when it was registered but became misleading after its registration as a result of bad use conditions by the owner.

LAVOIX recommendations:
Choose highly distinctive trademarks, i.e. totally arbitrary for the products and services in question;
Ensure that any ideas or messages conveyed by your trademarks are always in line with their use;
New administrative nullity action
This type of actions remains a competence shared between the French trademark office and the Judicial Courts according to the following rules :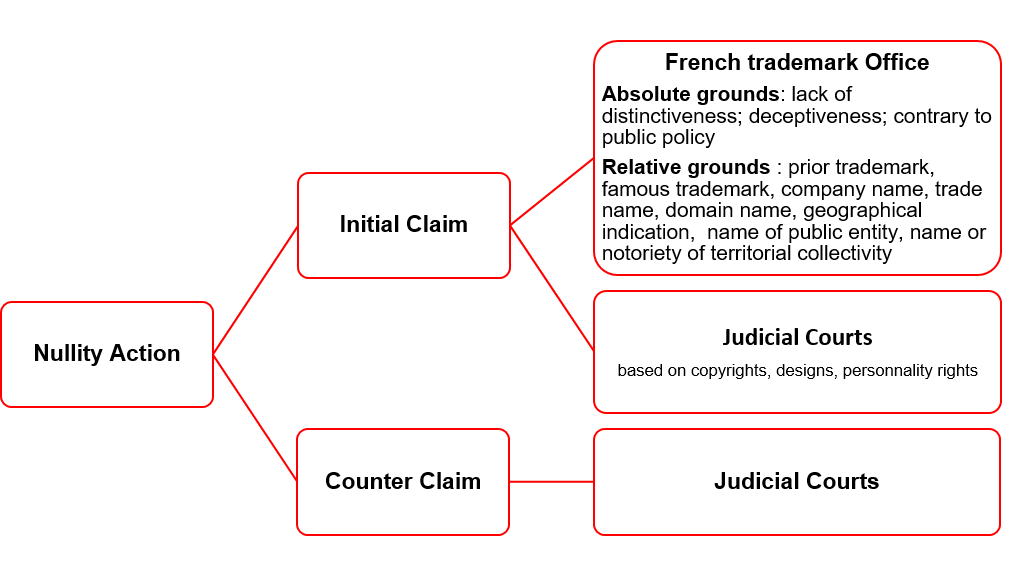 As an initial claim, a nullity action can be filed before the French trademark Office based on the following grounds:


Relative grounds

Absolute grounds

A prior trademark (French trademark, EU trademark, International trademark designating France or EU, famous trademark according to article 6 bis of the Paris Convention or trademark application)

Company name, commercial name or shop sign

Geographical indication,

 

Name, image or notoriety of a territorial collectivity

 

Name of a public entity,

 

Domain name,

 

A famous trademark,

 

A trademark filed in bad faith

The contested trademark is :

 - devoid of any distinctive character or descriptive or consisting exclusively of elements which may serve to designate a characteristic of the product or the service

- common in the current language or in the fair and constant practices of trade, at the time of filing

- exclusively consisting of the shape or other characteristic of the product, imposed by the nature of the product, necessary to obtain a technical result ;

- deceptive,

 -  representing an emblem of a State or of an intergovernmental organization ;

 - consisting of the denomination of earlier protected plan variety ;

- excluded from registration under the legislation on appellations of origin and geographical indications,

 - contrary to public policy and morality.
LAVOIX recommendations
In order to avoid any risk of nullity action against one of your trademark on the basis of relative grounds: conduct full availability searches and implement clearance strategies facilitated by these new administrative cancellation and nullity actions;
In order to avoid any risk of invalidity action against one of your trademarks on absolute grounds: be careful when you chose your trademark (do not register as a trademark a sign which is not sufficiently distinctive or which could be qualified as misleading).
 Proceeding and deadlines

Practical consequences:
Possibility to implement faster and less expensive clearance solutions after having conducted availability searches (official tax 600 € vs. higher costs of a judicial action) ;
Possibility of counter-attacks (in case of opposition / dispute based on weakly distinctive or non-used trademarks : faster and less expensive;
However, from you part, be careful to your non-used trademarks that you could likewise easily lose!
Publication date: April 2020
Tag(s) : Law

IP ALERT : IP ALERT Trademarks, Designs and Models

Subject(s) : Trademarks

Back to list