IPDATA² : A management tool for IP Portfolio 
Your challenges
Do you want to be able to not only access your IP portfolio but also manage and organise it, or even establish a definitive creation date for a document (article, publication, technical file, plan…) ?
LAVOIX is pleased to invite you to enjoy the benefits of its management tool IPDATA2, which enables you to access your IP portfolio managed by LAVOIX via a secure extranet site, whether you are at your desk or on the move.
IPDATA², a management system for you IP portfolio combining:
Flexibility of use: Access your IP portfolio at any time, whether you are at your desk or on the move.
Security: Your portfolio managed by LAVOIX is accessed via a secure website.
Free of charge: Use of the tool is completely free of charge, regardless of the number of users.
To help you manage your IP portfolio, IPDATA2 enables you to:
View and export all of the documents relating to any given file: patent applications, analyses, formal letters, prior art searches, trade mark names, models, invoices, etc. (subject to their presence in our database, in particular for old files).
View the list of all of your current deadlines and access each file directly.
Manage your entire IP portfolio. In particular, our tool makes it possible to carry out multi-criteria searches of your IP titles and to extract your search results in Excel format.
Access EasySTAMP, our online document timestamping tool.
Terms of use
Use of IPDATA2 is free of charge, subject to acceptance of the terms of use and regardless of the number of users.
IPDATA² grants you administrative rights to manage the list of users in your company. It allows you to create, delete or change user accounts, which means that you can set up and manage several accounts with different access rights.
IPDATA2 allows you to create your own search requests and extractions free of charge. We can also draw up specific lists for you which are not provided by our standard product and which you can access via IPDATA2 at pre-set intervals (customisation may be subject to a charge).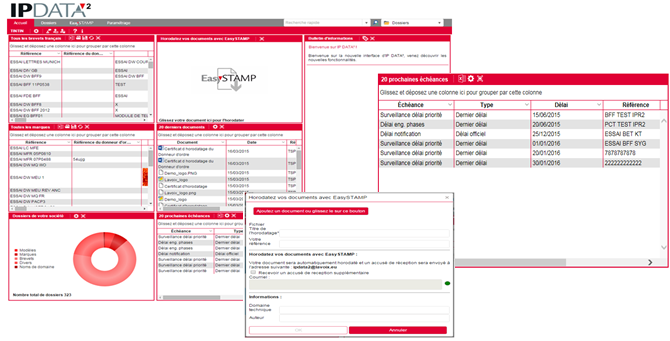 Subscription
To subscribe to IPDATA2 or to find out more about the terms of use, simply get in touch with your usual contact at LAVOIX. We will endeavour to implement IPDATA2 for your company as quickly as possible (subject to the technical compatibility of your operating system). We would also be happy to provide you with an introductory training session.
Assistance
Online assistance is available via our website. If you have any technical questions or experience any difficulties using the tool, please contact us at: ipdata2@lavoix.eu.
Click here to download the presentation of our IP tool.